How I Spent My Summer Vacation
Posted by
rtmsf
on August 22nd, 2007
Unless you notice because your team happens to take advantage of the rule in a given summer, one of the open secrets among college hoops fans is that many teams are allowed to get a jumpstart on their season by implementing NCAA Bylaw 30.7 – "Foreign Tours and Competition." This rule permits teams to take a basketball-related road trip to a non-US territory (yes, even Canada) once every four years, and allows for ten days of practice and as many as ten games against international teams so long as no class time is missed.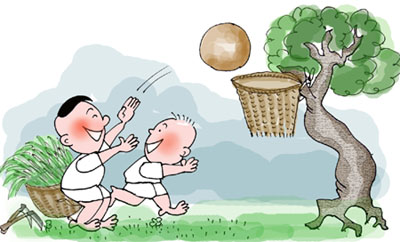 Playing Hoops in Far-Flung Places
With only 25 or so days of practice after Midnight Madness prior to the first regular season games, ten extra days in August to get a team prepared for the season can really make a difference. Not to mention the additional experience of playing games against real competition in sometimes hostile environments (we'll never forget the story of Rick Pitino famously getting ejected by an Italian official on an overseas jaunt while at Kentucky). An experienced team can use this trip to revitalize the well-oiled machine it left on the floor last March; whereas, a young team can use the trip to build camaraderie and let the coaching staff assess where team strengths and weaknesses will lie. Either way, short of a devastating player injury, there are no downsides.
Since so many programs use this rule, and data about who/when is difficult to come by, we can't quantifiably state for a fact that the rule helps teams in the season of which it was used. But it's reasonable to believe that more practice time ultimately begets a better team, and at least we can point to the 2006-07 Florida Gators as an example of where it worked – the Gators spent Labor Day weekend 2006 in Canada reminding themselves just how good they were by destroying the Brock Badgers (as you can see from the vid, Brock's defenders are invisible) and Guelph (hugs!) in succession.
So here are ten schools who are taking advantage of the rule this summer:
Tennessee – the preseason top 5 Vols spent 11 days on the Continent from Aug 8-19, and Bruce Pearl rated his team only a "C+" in terms of basketball while there. The Vols lost one game to Slovakia, but according to this article, they came away with a greater sense of appreciation for each other and understanding of roles, necessary after losing glue guy Dane Bradshaw and adding super-soph Tyler Smith to the mix.
Utah – Coming off an extremely tough 11-19 season, new head coach Jim Boylen's team spent twelve days in Australia from Aug 7-19 working on teamwork and confidence. The Utes went 3-3 on their trip to chilly (it's still winter there) Australia, but they came away with a sense that the "floor was higher," which is pretty much a shot at the work ethic and demands of former coach Ray Giacolletti.
Stanford – likely preseason top 25 Stanford left for Italy on Aug 20 and will spend twelve days (six games) in Rome, Florence and Milan touring the piazzas and showcasing the interior game of the Lopez twins and the outside shooting of Anthony Goods. Somehow that trip just screams Stanford the only way Stanford can.
Indiana – another team with high expectations for the coming season is now practicing in preparation for its Labor Day weekend trip to the Bahamas – wait a minute, Kelvin, is this a vacation ($895 – all-in) or a basketball trip? The Hoosiers waited until school began so that it could include uber-frosh Eric Gordon in the practices and the trip.
USC – Tim Floyd is using the same holiday weekend to take his sqaud to Mazatlan, Mexico for four games. OJ Mayo will begin practicing with the team during the first day of classes on Aug 27. Assuming he can be bothered to show up, of course.
Clemson – the Tigers are another veteran team with four starters returning who will be taking the long Labor Day weekend to go to the Bahamas. Maybe Clemson fans and Indiana fans can both pretend they're in Maui instead. Who are we kidding – all 440,000 toothless Clemson fans will be in Death Valley that weekend.
Oral Roberts – Eddie's Other Son lost the two stars (Ken Tutt and Caleb Green) who led ORU to 86 wins in the last four seasons, so he's using their Labor Day weekend trip to Toronto as an opportunity to rebuild with some young faces. Toronto, eh? No word on how ORU's penalty killing and shift changes are looking this year.
Alabama – what is it with these schools going to Canada? The Tide will spend Labor Day weekend in Ottawa, of all places – a city even further north than Toronto. Bama will be without star point guard Ronald Steele, who is still rehabbing both knees after a disappointing season in 2006-07. Still, Gottfried has a solid core coming back, and the last time they made this trip, they went to the Elite 8 (2004).
Washington – another disappointing team last year with promise of better things this season, the Huskies are now practicing in preparation for an extended Labor Day trip to Greece from Aug 31 – Sept 4. Head man Lorenzo Romar said that only one of his five starting positions is taken at this point – the rest are up for grabs (F – Jon Brockman).
Belmont – these trips aren't limited to just the bigger programs, as tiny NCAA Tournament darling Belmont University took a nine-day trip to Europe from Aug 11-20, including stops in Paris and London. That's more like it.