Is Duke losing its cachet?
Posted by
rtmsf
on May 18th, 2007
With the news Wednesday that Duke whiffed on PF Patrick Patterson (who opted for Kentucky over Duke and Florida), combined with yesterday's news that Roy Williams has extended his contract with UNC through the 2014-15 season, we started to wonder if we're seeing an unusual blip in Durham, or if last season and the presumed immediate future signal a larger problem there.
Be-Deviled?
The last time Duke had such a blip was in the mid-90s. In 1995, with Coach K's back hurting and Pete Gaudet at the helm for two-thirds of the season, Duke went 13-18 (2-14) and did not make the NCAA Tournament. There has been considerable harping over the years about whose record (K's or Gaudet's) all those losses should fall on, but at the time, it wasn't a leap to see that even when Duke was 9-3 in early January 1995, a team led by the likes of Cherokee Parks and Jeff Capel (as opposed to Grant Hill, Bobby Hurley or Christian Laettner) was flawed. This was especially true in light of a stacked ACC that season (Each of Duncan, Wallace, Stackhouse, Childress and Joe Smith were all-americans in 1995).
The next season, when K was back on the bench, shows just how far the talent level at Duke had fallen. The 1995-96 team only performed five games better than its predecessor, going 18-13 (8-8) and losing both its first round ACC Tourney game and its first round NCAA game (by 15 pts) to… Eastern Michigan? The following year, 1996-97, Duke only got marginally back on track. The Devils finished with a 24-9 (12-4) record and won the ACC regular season, but they flamed out early again in the postseason, inexplicably losing to #8 seed NC State in the quarters of the ACC Tourney and barely scraping by Murray St. in the first round before losing to #10 seed Providence (by 11 pts) in the second round of the NCAAs. Does this sound familiar at all? It should, as Duke just finished its 2006-07 campaign with a 22-11 (8-8) record, culminating in a first round ACC Tourney loss and a first round NCAA loss to… VCU.
Is there cause for concern among Devil faithful, or is last year's mediocre regular season and short-lived postseason just an anomaly?
After the 1995-97 disasters (by Duke standards), K got serious about recruiting again, which culminated in the 1997 class – Avery, Battier, Brand, and Burgess – one of the best of the last twenty years. How'd that work out? – try an absolutely sick 133-15 (59-5) record over the next four seasons, including three ACC Tourney championships, four NCAA #1 seeds, two Final Fours, and a national title in 2001. He followed that class up with a smattering of more blue-chippers, from Maggette in 1998 to another blockbuster class in 1999 – J-Will, Dunleavy and Boozer – and Duhon in 2000. What happened next? The 2002 class included JJ Redick and Shelden Williams, who, while excellent college players, never had the gamebreaking abilities that some of the previous Dookies had. In fact, the last player that it could arguably be said that Coach K recruited to Duke that fit that mold is Luol Deng (class of 2003), who was largely responsible for getting Duke to its last Final Four in 2004 during his only season there.
Since Deng's departure after the 2004 season, we're wondering what has happened to the pipeline of NBA talent that K was bringing in on a semi-annual basis. Sure, many guys have been highly ranked recruits that simply didn't pan out as expected – Shavlik Randolph, Josh McRoberts, Greg Paulus – but even if those guys had hit their ceilings of potential, would they be as good as the Kevin Durants and the Tyrus Thomases of the contemporary NCAA landscape? Or the Elton Brands and Luol Dengs of Duke's Christmas past?
Where are all the Duke studs?
Looking at the class rankings for 2007, Duke is listed near the top, which on its face, may suggest that they'll be back on track in short order. The supposed jewel of the class is 6'9 forward Kyle Singler, from Medford, Oregon. We recognize that it's always difficult to evaluate a player's potential from all-star games and video compilations (disregard the title of the video – Singler is definitely going to Duke), but from what we've seen, Singler looks like another slow white boy fundamentally sound but below-the-rim type of player. The absolute best case for Duke would be if he channeled the career of another northwesterner, Adam Morrison (who, incidentally, made zero F4s), but he's probably not even another Chris Carrawell. Their other two big recruits, Nolan Smith (6'3 G; Oak Hill (VA)) and Taylor King (6'7 F; Santa Ana (CA)) are both rated in the 26-50 range – in other words, they might make for nice four-year players if things break right. But where are their difference-makers like Grant Hill, Avery, J-Will, Brand, Battier, Deng, etc.?
The short answer is that K, for whatever reasons, simply isn't pursuing or getting many of those guys anymore. Consider Duke's 2007-08 likely starting lineup of Paulus, Scheyer, Henderson, Nelson, Singler – every one of these players was a McDonald's All-American and top 50 recruit. Duke will likely win 20-25 games and get a top four seed in the NCAA Tournament with this group. But where is the gamebreaker that can get a somewhat flawed team like this, sporting no inside presence, to another Final Four? Where is the playmaker who can make good things happen down the stretch of close games on neutral courts in March? We simply don't see it here.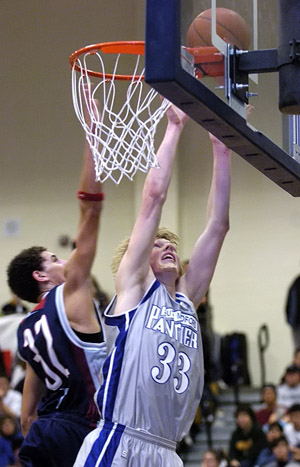 This is the future of Duke?
We commented a few days ago about the impact of the one-and-dones on this season, and generally concluded that it helped teams more than it hurt them (at least in 06-07). The talent level at UNC, UCLA, Kansas, Florida, Ohio St., and others is replenishing – can we accurately say the same anymore at Duke? We think there is valid cause for concern, as Duke built its lofty and deserving reputation on the back of wins in March rather than wins on the recruiting lists; and the players that K is now getting seem mostly primed for Final Fours and championships on paper, not the hardwood.