Big 12 Power Rankings: Baylor Demands Your Attention Edition
Posted by
Nate Kotisso
on February 3rd, 2015
It's a near-consensus this season that the Big 12 is considered the best conference in college basketball. As we approach the halfway point of league play, drawing a line between NCAA Tournament contenders and the rest has become an easier task. We all expected Kansas and Iowa State to reign at the top and Oklahoma State, TCU and Texas Tech rounded out the standings (sorry, guys). But the middle five conference teams have been the tough to forecast all season long. West Virginia is 6-2 in league play but still somewhat unproven, with four of those six wins coming against the Horned Frogs and Red Raiders. Texas, Oklahoma and Kansas State have all left something to be desired. The only middle five team to exceed expectations so far has been none other than Baylor.
After finishing sixth last year, Big 12 coaches picked Baylor sixth again before the season began. At the moment, the Bears are in, you guessed it, sixth place. So how are they exceeding expectations? Because they lost Isaiah Austin, Cory Jefferson and Brady Heslip — three of their top four scorers from a year ago — and a slew of role players has been charged with taking on greater responsibility. Rico Gathers has been an anchor inside, grabbing more rebounds in a starter's role (12.0 RPG) while sharing the wealth among veterans Royce O'Neale (6.3 RPG), Taurean Prince (5.7 RPG) and freshman Johnathan Motley (4.6 RPG). The graduation of sharpshooter Heslip left a gaping hole in the team's outside shooting but that role has been supplanted by another trio of Bears. O'Neale has been a consistent outside shooting option since arriving from Denver (42.4%) and Prince is also capable from distance (40.5%), but the most improvement has come from point guard Kenny Chery (32.5% last season to 40.5%).
A rebuilding year was expected in Waco, but the Bears haven't really skipped much of a beat. A lot of the credit for that should go to head coach Scott Drew, who is probably a much better coach than you think. In years past under Drew's direction, the season after an NCAA Tournament appearance typically resulted in a major regression. It was practically a Big 12 rite of passage. The fact that he has Baylor competing for an NCAA berth this season is a testament to his overall coaching ability and a keen ability to develop talent. Returnees like Gathers, Chery, O'Neale and Prince have stepped up in their roles and allowed Baylor to avoid a significant dropoff. I've teased Drew in the past but his series of accomplishments at the school, despite facing great odds, is undeniable. With a relatively lighter schedule the rest of the way, it would be great to see the Bears get past that every-other-year hurdle and become an NCAA Tournament mainstay out of this league.
Power Rankings
Kansas — 3 points (All voted 1st). Comment: "If watching college basketball was an episode of The Simpsons, we'd all be writing "I will never ever doubt Bill Self again" on the chalkboard. The Jayhawks are 8-1 at the halfway mark and the Big 12 title once again goes through Lawrence, Kansas." – Chris Stone (@cstonehoops)
Iowa State — 7 points (Chris & Nate — 2nd, Brian — 3rd) Comment: "In order to pull off a season sweep of the Jayhawks for the first time in 14 seasons, the Cyclones needed the same effort they offered in their first meeting. It didn't happen. My reasoning for placing Iowa State ahead of West Virginia is based on Iowa State's win in the head-to-head and the fact four of WVU's six Big 12 wins came against TCU and Texas Tech." – Nate Kotisso (@natekotisso)
West Virginia — 8 points (Brian — 2nd, Chris & Nate — 3rd) Comment: "Briante Weber's season-ending injury is a heartbreaker for VCU, but if you're looking for the next threat to break the NCAA's all-time steals record, take a look five hours north of Richmond. At 2.1 thefts per game (2.5 SPG in Big 12 play), freshman Mountaineers' guard Jevon Carter is already on a torrid pace. He has some competition in Oregon State's Gary Payton, Jr., but if Carter stays in Morgantown for all four years and Bob Huggins continues to employ a stifling defense, he could be the one to do it." – Brian Goodman (@BSGoodman)
Baylor — 13 points (Brian & Nate — 4th, Chris — 5th) Comment: "The Bears punished Texas by 23 on Saturday and are now 4-4 in conference play. The problem? They've still got road games against West Virginia, Kansas, Iowa State, and Texas yet to play." – CS
Oklahoma — 14 points (Chris — 4th, Brian & Nate — 5th) Comment: "You could say TaShawn Thomas single-handedly won #Bedlam for the Sooners on Saturday with his 12 points and two late two charges taken in the game. The schedule will be balanced from here on out for Oklahoma, though. After playing four of their last six games on the road, the Sooners will alternate between home and away games starting tonight when West Virginia invades Norman." – NK
Kansas State — 19 points (Chris & Nate — 6th, Brian — 7th) Comment: "Saturday's loss to the Jayhawks began a stretch of five of seven games on the road, where the Wildcats are a paltry 1-5 on the year. Maybe they'll take a few of those roadies to move toward the more comfortable side of the NCAA Tournament bubble, but I wouldn't bet on it." – BG
Oklahoma State (tied for 7th) — 22 points (Chris & Nate — 7th, Brian — 8th) Comment: " The Cowboys got a nice win against Baylor this week and then stumbled against Oklahoma. They'll need to close out the season strong if they have any hopes of making the NCAA Tournament." – CS
Texas (tied for 7th) — 22 points (Brian — 6th, Chris & Nate — 8th) Comment: "The Horns have been one of the more disappointing teams to watch in all of college basketball this season. They've had good moments — a second half lead against Kansas; a wild comeback attempt at Iowa State — but then a listless effort versus Baylor. They'll be able to doll up their conference record with three of the next four against the bottom of the Big 12." – NK
TCU — 27 points (All voted 9th). Comment: "The Horned Frogs have done well to hang with Kansas State, give West Virginia a scare, and stick with Kansas until the final horn. There have been plenty of moral victories, but sooner or later, it'll be time for the real thing." – BG
Texas Tech — 30 points (All voted 10th). Comment: No more upsets for Texas Tech this week as the Red Raiders were beaten up by Oklahoma and West Virginia on the road. It's hard to imagine they'll get another win this season." – CS
Big 12 Video/GIF of the Week
A wonderful thing about every game appearing on television is something we often take for granted — that moment when broadcasts return from commercial break. Usually there is at least one camera focused on a fan or section of fans dancing as if they were the only people in the building. They might be trying it just for the attention, but sometimes you have to wonder. Like in the case shown below. While these two Baylor fans were taking in the game on Saturday night, they decided to let it all hang out. (H/T Deadspin)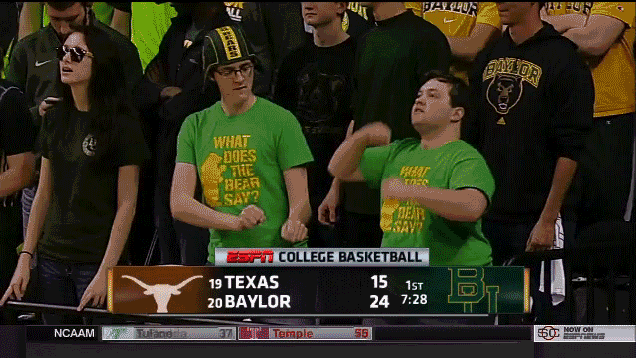 SO MUCH GOING ON HERE. You've got the dancing fans doing curious things with their extremities. One of them is sporting a Baylor leather helmet of some kind and both are wearing "What does the bear say?" tees. Because pop culture in 2013 ruuuuled! I want you to keep an eye on three other things happening in this GIF, though. There's the girl to the left in the shades who isn't foolish enough to dance but is willing to faintly sing along while carefully tapping her index fingers to the beat. There's also the kid behind helmet guy who is rocking back and forth and could tip over at any moment to cause an awesome domino effect to Baylor's student section. Finally, we have rolled-up-sleeves-hoodie-wearing bro, also behind our heroes, who looks down at these two before looking up at the video board just to make sure this was actually happening right in front of him. If you look hard enough, there are a lot of small, potential GIFable moments within the primary GIFable moment. This was a beaut.
Five Big 12 Games You Better Watch This Week
Tuesday: West Virginia at Oklahoma (7:00 PM CT, ESPN2)
Saturday: Baylor at West Virginia (11:00 AM CT, ESPNU)
Saturday: Kansas at Oklahoma State (1:00 PM CT, ESPN)
Saturday: Oklahoma at TCU (2:00 PM CT, ESPNEWS)
Saturday: Texas at Kansas State (3:00 PM CT, ESPN)