SMU's Markus Kennedy is Coming Into His Own
Posted by Mike Lemaire on February 5th, 2014
Although he has scored double figures in each of his team's 10 conference games, it still felt like SMU center Markus Kennedy's true coming-out party came in Saturday's win against Memphis. The redshirt sophomore is the team's leading rebounder and second-leading scorer but questions about his consistency and production against good teams remained. But over the weekend, squaring off with fellow sophomore Shaq Goodwin with his team badly needing a win after an embarrassing road loss to South Florida, Kennedy didn't just show up, he showed out.
He actually missed more shots when no one was guarding him than he did with defenders trying to stop him, as he finished 10-of-10 from the field and just 1-of-6 from the free-throw line en route to 21 points, 15 rebounds, and three steals as the Mustangs outscored the Tigers by 20 in the third quarter and coasted to victory from there. His athleticism on both ends of the floor helped keep Goodwin in foul trouble and off of the score sheet as the touted Tigers' big man managed just six points and two rebounds. It's worth mentioning that Kennedy did all of this knowing fully well that after the game he would be returning home to Philadelphia to surprise his mother, who is in the military and headed back to the Middle East on another tour of duty. For fans who have been following the Mustangs all season, Kennedy's performance shouldn't have been and probably wasn't all that surprising. The Villanova transfer has almost silently been one of the three or four best true big men in the conference and his anchoring of the post even after the team lost Yanick Moreira to an MCL injury has been one of the main reasons why SMU is probably on the right side of the NCAA Tournament bubble. But for those who haven't been keeping track of the basketball revival that coach Larry Brown is leading in Dallas, Kennedy has put himself on the map and folks are beginning to take notice.
Kennedy was only a three-star recruit coming out of high school, but he always impressed with his refined offensive ability in the post and his quick feet on both ends of the floor. He showed glimpses of his ability in his one season at Villanova, averaging 3.0 points and 4.4 rebounds in just 14.8 minutes per game of playing time, and he was expected to be a key addition for Brown's Mustangs this season, but few could have predicted this sort of marked improvement. Although his leap is more complex and nuanced than something that can be explained in one sentence, any in-depth analysis into how Kennedy has been able to make such an incredible on-court transformation needs to begin with the obvious off-court transformation he made to his body. Luckily professional photographers are hired to capture basketball players in action and post the photos to the Internet; otherwise such a stark side-by-side comparison wouldn't be possible.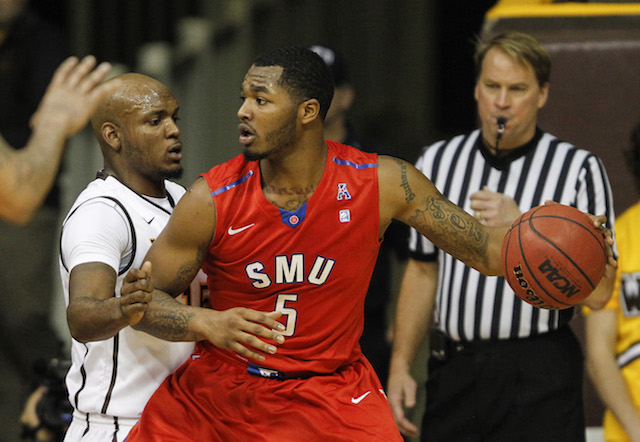 It's not hard to see that Kennedy has completely transformed himself from the soft and pudgy 260-pounder that ate up space for the Wildcats to the svelte 220-pounder who is now terrorizing frontcourt players in the AAC. The aforementioned scouting report on Kennedy praised his offensive skills around the basket, especially his touch and diverse set of post moves, and it made a point to rave about his exceptionally quick feet for a man his size. You don't need to be a basketball coach to understand that such a set of skills plays much better in a 220-pound body than it does in a 260-pound one, and his improved conditioning means he can stay on the floor for longer stretches of the game.
His body improvements are a big reason why Kennedy is playing at such a high level, but there are plenty of on-the-court improvements that explain Kennedy's performance as well. According to Hoop-Math.com, Kennedy made just better than 57 percent of the field goals he attempted at the rim and just better than 20 percent of his two-point jumpers as a freshman at Villanova. Those two types of shots accounted for 88 percent of Kennedy's attempts as a freshman. Throw in the fact that he rarely got to the free throw line despite his size and made just seven percent of his attempts once he got there and you can see why Kennedy was so inefficient offensively. This season, his numbers are much better. He is making 74.5 percent of his shots at the rim and 31.2 percent of his two-point jumpers and those two types of shots account for better than 97 percent of his attempts. His atrocious free throw shooting (57.5 percent this season) prevents him from being an even more efficient offensive player, but he has also become a more willing passer who can create opportunities in multiple ways on the low block.
Kennedy's vastly improved athleticism on the defensive end has made him a more effective shot-blocker and a surprisingly crafty thief, especially for a player his size. The scary thing is that he is still in his first season as a major contributor at the Division I level, so his occasionally frustrating foul habits, his ugly free throw shooting, and his propensity to the turn the ball over are things that he will have plenty of time to iron out. Say what you will about the Mustangs' exceptional depth and excellent team defense — and both deserve to be discussed at length in a different space — but if the Mustangs finish the season strong and make the NCAA Tournament, Kennedy will be one of the main reasons why. The young big man is only just getting started, so it might be time for folks to start calling up Shaq Goodwin and asking him for the scouting report.