Award Tour: Quarter-Season NPOY and COY Rankings
Posted by Jameson Fleming on December 6th, 2013
Jameson Fleming is an RTC columnist who also works for CBSSports.com as the site's social media editor. You can follow him on Twitter @JamesonFleming.
For several years, the Pac-12 was the laughingstock among the power conferences. The league is landing top talent once again, and that talent is represented in these rankings as four Pac-12 players cracked the Top 10. While two freshmen make up the top four of these rankings (and two more, Andrew Wiggins and Aaron Gordon could be on their way soon enough), the four Pac-12 representatives aren't first-year players. Through the first month of the season, here goes:
PLAYER OF THE YEAR
10. Jahii Carson – Arizona State
2013-14 stats: 20.2 PPG, 5.1 APG, 115.9 oRTG
Thanks to his struggles in his team's losses against Creighton and Miami, Jahii Carson might fall from his #10 spot. But before those struggles, Carson was looking like one of the country's most improved players even though he scored 17-plus per game last year. He dropped 40 points on UNLV and is already halfway to his 2013 total for three-pointers. How do you guard filthy moves like this?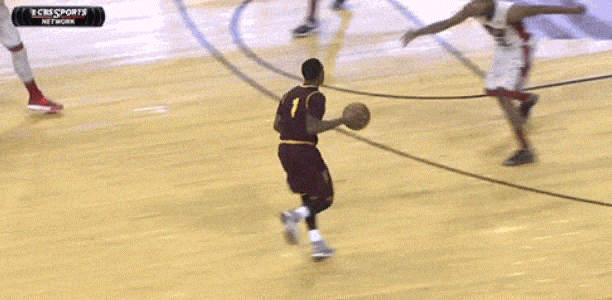 9. Roberto Nelson – Oregon State
2013-14 stats: 25.4 PPG, 5.2 APG, 122.6 oRTG
Roberto Nelson probably won't hold his spot in Top 10 for too long if his team doesn't start to win, but in the first edition, his 24.5 PPG has to be recognized. He's taking an astronomically high percentage of his teams shots (36%) while maintaining great efficiency (122.6 oRTG). His percentage on two-pointers is way up to 58%, 11 points higher from last year. Where did the improvement come from? He's taking 50 percent of his two-pointers around the basket and converting an absurd 65 percent of them. Last year, he only took 36 percent of his twos from around the hoop and sank just 55 percent as a result (stats via Hoop-Math).
8. Kyle Anderson – UCLA
2013-14 stats: 14.0 PPG, 9.2 RPG, 7.8 APG, 121.6 oRTG
After a disappointing freshman season, Kyle Anderson returned to UCLA and the extra year in school under Steve Alford is paying off. While the Bruins have played a bunch of cupcakes (their toughest game so far is hosting Drexel), Anderson's impressive start can't be downplayed. He's a threat to record a triple-double every night while his shot selection has dramatically improved. His slash lines are a slick  51/55/70 compared to last year's 45/21/74. His teammate Jordan Adams has been nearly as impressive.
7. Russ Smith – Louisville
2013-14 stats: 17.8 PPG, 4.8 APG, 120.9 oRTG
Everybody knows Russ Smith can fill it up on the offensive end of the floor, but Smith's defense has been an integral part of Rick Pitino's 40 minutes of pressure. With the new freedom of movement rules, it wasn't clear whether the Cardinals would still be able to dial up the same suffocating defense. Smith hasn't had any trouble maintaining the intensity as he's steal rate is identical from last year at 4.1 percent. If Louisville stays near the top of the rankings, college basketball's best parody Twitter account has to make a comeback, right?
6. Doug McDermott, Creighton
2013-14 stats: 24.4 PPG, 6.8 RPG, 11.8 oRTG
Before the season, Doug McDermott and Marcus Smart could have easily become the "Forgotten Two" in colleges hoops with so many impact freshmen. McDermott and Smart quickly made it clear they were still going to be significant factors in this year's Player of the Year race. His numbers are down slightly from last seasson, but that's partly thanks to George Washington giving him arguably the toughest game of his career. Don't be surprised if Dougie McBuckets steals the headlines with a 40-point game this year.
5. Nick Johnson – Arizona
2013-14 stats: 17.1 PPG, 2.4 APG, 126.1 oRTG
Everyone is talking about freshman Aaron Gordon (for good reason), but Arizona's best player so far this year has been two-guard Nick Johnson. It's a nice problem for Sean Miller – his best player isn't even getting the most notoriety. Perhaps the strongest argument for Arizona as the nation's top team is that neither Johnson nor Gordon may be the team's most valuable player. That title deserves to go to Duquesne transfer T.J. McConnell, who gives Arizona a steadying presence at point guard.
4. Julius Randle – Kentucky
2013-14 stats: 18.1 PPG, 12.5 RPG, 114.6 oRTG
On college basketball's first big night of the season, Julius Randle was one of three freshmen who fought for the spotlight. Fellow freshmen Andrew Wiggins will likely land in this Top 10 eventually, Jabari Parker is #1, and Randle has emerged as a double-double machine. He picked up double-figure points and rebounds in each of his first seven college games. He's a monster in the post thanks to moves like this:
He fakes Branden Dawson, an experienced and athletic defender, out of his shoes and finishes over senior Adreian Payne.
3. Marcus Smart – Oklahoma State
2013-14 stats: 20.5 PPG, 3.0 SPG, 108.9 oRTG
Marcus Smart has been utterly dominant for long stretches of games. In three consecutive contests, he dropped 26 points in the first half against Memphis, 23 in the first half against South Florida, and 24 in the first half against Purdue. Oh, and he can hit shots from 70 feet.
Smart's shot selection could still use some work, but it's much improved over last season. He's taking better shots from three, but his two-point shot selection is still horrid. His two-point jumper percentage is actually down from 40 percent to 22 percent this year.
2. Shabazz Napier – UConn
2013-14 stats: 16.4 PPG, 7.1 RPG, 5.4 APG, 123.1 oRTG
No player on this list has been as clutch as UConn's Shabazz Napier so far this year. After somehow maintaining possession of the ball, Napier got off not one, but two shots against Florida for the win. In case you missed it, the second one counted:
Napier has been the best player and leader on a UConn team that already has wins over Maryland, Florida, and Indiana. After mass departures following the 2011-12 season, Napier held this team together and turned it into a top-15 team.
1. Jabari Parker – Duke
2013-14 stats: 22.1 PPG, 7.8 RPG, 114 oRTG
Although Duke has already lost twice thanks in large part to a porous defense, Jabari Parker deserves to be #1 in the National Player of the Year race. He wowed the nation in Duke's first game against Kansas with this move being perhaps the most impressive display of his talent.
Parker is taking a ton of his team's shots (34%) while scoring at a highly efficient rate of 114 oRTG. He's a threat to score from anywhere with his shooting slash line of  57/47/71, and he's been Duke's only interior defensive presence.
COACH OF THE YEAR
5. Fred Hoiberg, Iowa State. The Mayor has the Cyclones undefeated in December and looking to be the best Iowa State  team in more than a decade. This team thrives on making easy shots, something it's done in quality wins against Michigan and BYU.
4. Bo Ryan, Wisconsin. The Badgers are 9-0 and off to one of the best starts in program history. Bo Ryan's club has already picked up wins against St. John's, Florida, Saint Louis, West Virginia, and Virginia. Does any other team have as many quality wins?
3. Jay Wright, Villanova. No one expected Villanova to be undefeated in December. Jay Wright picked up a couple impressive wins in the Bahamas against Kansas and Iowa thanks to some of the nation's best defense.
2. Kevin Ollie, UConn. As alluded to above, UConn was on the verge of falling apart after so many players left the program following the 2011-12 season. The Huskies hired Kevin Ollie to keep the team from falling apart. He's done more than just that — in fact, he has UConn playing its best basketball since 2011.
1. Sean Miller, Arizona. Assuming the Wildcats don't inexplicably lose to UNLV over the weekend, Arizona will make a very strong case for #1 on Monday. Arizona's biggest improvement from last year is that Sean Miller actually has this team playing defense. The Wildcats are getting out and contesting shots much better this year.