Posted by Jameson Fleming on December 6th, 2013
Jameson Fleming is an RTC columnist who also works for CBSSports.com as the site's social media editor. You can follow him on Twitter @JamesonFleming.
For several years, the Pac-12 was the laughingstock among the power conferences. The league is landing top talent once again, and that talent is represented in these rankings as four Pac-12 players cracked the Top 10. While two freshmen make up the top four of these rankings (and two more, Andrew Wiggins and Aaron Gordon could be on their way soon enough), the four Pac-12 representatives aren't first-year players. Through the first month of the season, here goes:
PLAYER OF THE YEAR
10. Jahii Carson – Arizona State
2013-14 stats: 20.2 PPG, 5.1 APG, 115.9 oRTG
Thanks to his struggles in his team's losses against Creighton and Miami, Jahii Carson might fall from his #10 spot. But before those struggles, Carson was looking like one of the country's most improved players even though he scored 17-plus per game last year. He dropped 40 points on UNLV and is already halfway to his 2013 total for three-pointers. How do you guard filthy moves like this?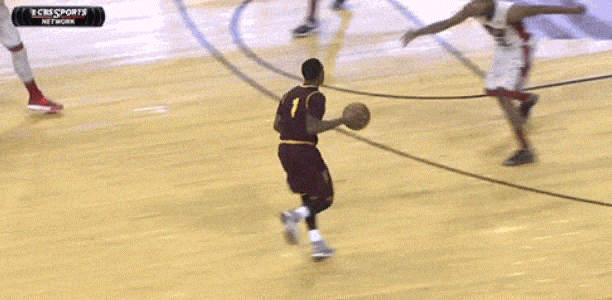 9. Roberto Nelson – Oregon State
2013-14 stats: 25.4 PPG, 5.2 APG, 122.6 oRTG
Roberto Nelson probably won't hold his spot in Top 10 for too long if his team doesn't start to win, but in the first edition, his 24.5 PPG has to be recognized. He's taking an astronomically high percentage of his teams shots (36%) while maintaining great efficiency (122.6 oRTG). His percentage on two-pointers is way up to 58%, 11 points higher from last year. Where did the improvement come from? He's taking 50 percent of his two-pointers around the basket and converting an absurd 65 percent of them. Last year, he only took 36 percent of his twos from around the hoop and sank just 55 percent as a result (stats via Hoop-Math).
8. Kyle Anderson – UCLA
2013-14 stats: 14.0 PPG, 9.2 RPG, 7.8 APG, 121.6 oRTG
After a disappointing freshman season, Kyle Anderson returned to UCLA and the extra year in school under Steve Alford is paying off. While the Bruins have played a bunch of cupcakes (their toughest game so far is hosting Drexel), Anderson's impressive start can't be downplayed. He's a threat to record a triple-double every night while his shot selection has dramatically improved. His slash lines are a slick  51/55/70 compared to last year's 45/21/74. His teammate Jordan Adams has been nearly as impressive.