What's Trending: NCAA Tournament First Weekend
Posted by Nick Fasulo (@nickfasuloSBN) on March 24th, 2014
What's Trending is a column examining the week that was in college basketball social media. Nick Fasulo (@nickfasuloSBN) is your weekly host.
Welcome to the 2014 NCAA Tournament. Only this meme can succinctly capture it all…
h/T @WorldOfIssac
Aaron Craft
I am not a mean person (I'm also not a Photoshop wiz). But this was very mean, despite being funny. It also felt necessary due to all the positive publicity the great Aaron Craft has received during his four years in Columbus.
Mark Gottfried
NC State had it locked up. TJ Warren was more or less rolling and the Billikens couldn't keep up. But some horrific free throw shooting and what appeared to be apathetic coaching doomed the Wolfpack to the cruelest of NCAA Tournament losses.
Don't think we weren't watching, Mark.
Duke Loses to Mercer
Mercer's time in the limelight lasted about 48 hours, but the following dance (and America's glee with a Blue Devils loss) made the Bears memorable.
Dayton President and The President
Congrats to Dayton, a basketball-first school, for reaching the Sweet Sixteen for the first time since 1984. Your school president hung out with you over the weekend, and our nation's President even gave you props for the pair of big victories. What a weekend!
Stanford Band
The Stanford band was accused of smuggling in hard alcohol to the Cardinal's Sunday game against Kansas. It was soon reported that that accusation was erroneous, but I'm wondering if they forgot to check out this guy.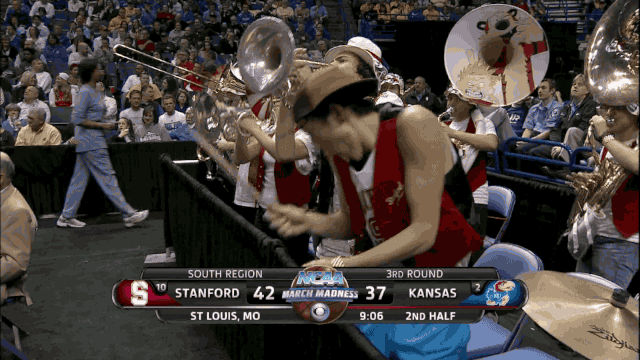 Crying Kansas Fan
I flashed back to 1998 when I saw this kid. Duke had just lost to Kentucky in the regional final, and I was the worst kind of Duke fan. I wept and told my mom I hated William Avery. Chin up, kid. These things too shall pass.
Wichita State – Kentucky
The game of the weekend. Probably the game of the year. Arguably one of the best NCAA Tournament games of the past 10 years. There were so many jaw-dropping, breath-taking, "no way" yelling moments from the Shockers thriller with the Wildcats that we all ran out of ways to say we were watching something incredible.
Linkables